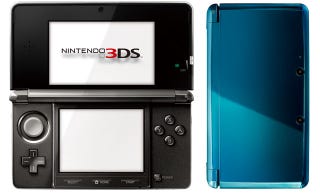 The 3DS is coming in March, and while the picture is far from complete, we've compiled what we know about Nintendo's latest handheld into one handy post.
We've got the basics covered here, from launch dates and prices to the initial software line up. We've even got some technical details sprinkled here and there for those of you interested in knowing what makes the 3DS tick.
Expect updates as more details on the system's launch games surface.
What Is The Nintendo 3DS?
It may look like a Nintendo DSi and play DS games, but the Nintendo 3DS is the first in a new portable product line. The device has much more graphical power under its hood than the Nintendo DS line of handhelds, resulting in graphics that rival those of its console counterparts.


The 3DS also, as the name implies, is able to play games in 3D, and without the need for the player to wear special glasses. The lower touch screen of the DS and DSi remains intact, while the upper screen is replaced with a 3.53 inch LCD display capable of displaying 16.77 million colors at a resolution of 800 x 240 pixels. When viewing games in 3D, 400 columns of pixels are dedicated to each eye.
The 3DS features three cameras. The one inner camera can be used to take pictures of the player or use facial recognition functions. Two outer cameras produce 3D images that can be viewed instantly on the 3DS screen. The cameras will also be utilized in augmented reality games, super-imposing video game graphics on real-world visuals.
To read about more features of the 3DS, feel free to check out or full coverage of Nintendo's next handheld, including Stephen Totilo's excellent article tackling some of the burning questions the new device raises.