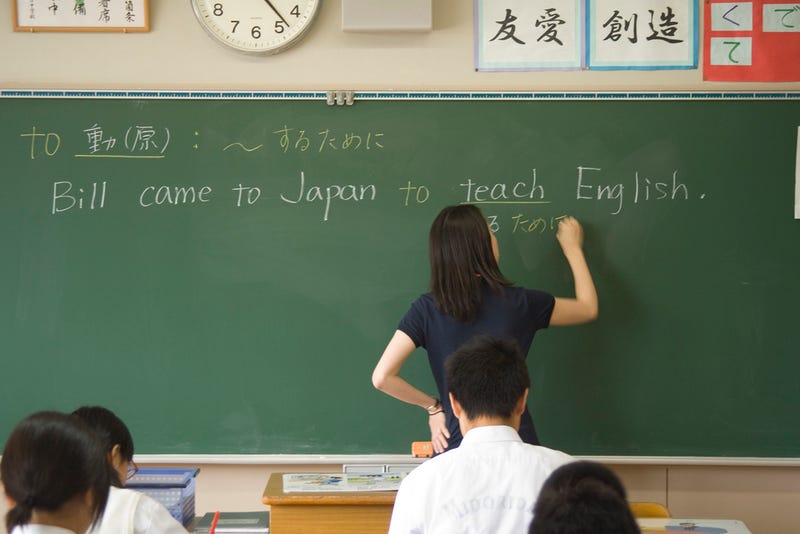 While marveling at the scenery, soaking up pop music or playing video games, you can't miss it. In Japan, English is everywhere. And the country seems, at times, obsessed with learning it.
Of course, most of the English visitors and residents alike come into contact with isn't really English, but Japan's spin on the language. They might look like English words, but the lingo is often a romanization of Japanese.
Like English, the Japanese language excels at absorbing foreign words. Countless English words, whether they be "mosquito" (from Spanish or Portuguese) or tycoon (from Japanese) are adapted and turned into English. Japanese works in much the same way — and has for centuries, starting with its amalgamation of both Chinese and Korean.
Starting in junior high school, Japanese students must study English. This continues through high school as the college entrance exams have an English section. Some parents begin exposing their children to English early on through television or English schools. It wasn't always that way. For a period while Japan was at war with the U.S., English was banned. Even baseball, a game that was still played throughout the war, had its words like "strike", "safe" and "out" replaced with new Japanese words. (The English words returned to the game after the war.) Children in schools were taught German, creating an entire generation of elderly Japanese citizens who cannot speak any English whatsoever.
But as good as the Japanese language is at absorbing English and making it its own, the country as a whole is less than good at simply speaking it. Some blame the curriculum created by the country's Ministry of Education for not preparing students to actually use English, but instead, preparing them to do well on the English portion of their notoriously difficult college entrance examinations.
To fill the gap created by what's lacking in the Japanese education system, private companies have stepped in, offering to educate Japanese students in English conversation. The urban landscape is dotted with signs for English instruction, and Japanese celebrities appear in ads for English schools.
Foreign celebrities like former underwear model and Harvard graduate Patrick Harlan give advice on picking up the lingo, while there are shows on Japan's NHK on how to speak English (as well as a myriad of other languages), books on how to learn English and a whole host of Nintendo DS games. Makes sense as some school's in Kyoto use Nintendo DS consoles during lessons.