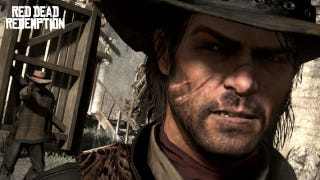 2010 might be over, but my memories of the year's games still live on and on. Here are some of my favorite gaming moments of 2010.
These are in no particular order and do know that these moments are not a list of my favorite games of 2010. Several of these games would show up on said list, but, like I said, these are my favorite moments of 2010, not games.
There are SPOILERS ahead so don't read it if you don't like SPOILERS.
Brian Ashcraft's Favorite Gaming Moments of 2010
You And Your Singsong Voice: Forget the gameplay and story for a moment, the nuts and bolts of the dialogue in Red Dead Redemption is a stellar, stellar stuff. And this scene delivers one of the game's most memorable (and badass) lines. Because when a man with a singsong voice tells me to fuck off, it always concerns me.
A Game Within A Game About Games: The Fable franchise is always trying new stuff. Some of it works brilliantly and some of it fails spectacularly. One thing that truly clicked in Fable III was the game quest, which ends up being a sharp and funny commentary on not only playing video and table-top games, but making them.
In The Trenches: World War I is not exactly prime fodder for video games, which is what made Toy Soldiers so intriguing. What made it memorable for me was the ability to jump into the fray and mow down charging dogface soldiers with heavy artillery. Maybe it was the whistle blown to lead the charge, or maybe it was a flares shot in the air, or maybe it was a peak at what made the first World War so damn horrific.