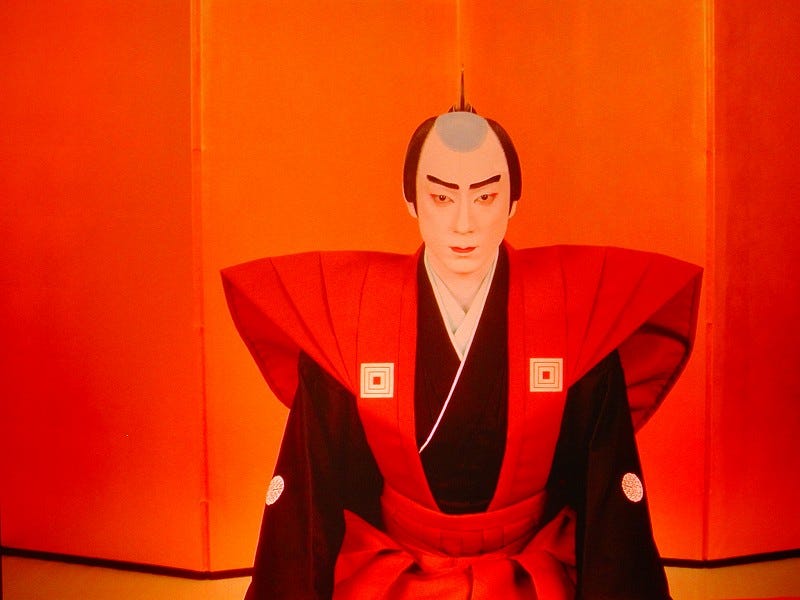 One does not become a kabuki actor, it's a male-only birthright. There are kabuki dynasties, and only the oldest son can star in kabuki theater. One of Japan's most popular kabuki actors just got his face smashed in.
And it might cost him his career.
Ebizo Ichikawa XI, 32 years old, was born Horikoshi Takatoshi and began training for kabuki as a toddler. Following in the footsteps of his father, he took the stage name "Ebizo Ichikawa" in 2004. Kabuki is similar to royalty in that actors have a family lineage and stars not only represent the art of kabuki, but Japanese culture.
Besides kabuki, Ichikawa stars in green tea ads and appeared in his first television role as legendary samurai Musashi Miyamoto in a NHK drama. Besides his impact on Japanese history and philosophy, Musashi Miyamoto is also a playable character in action game Sengoku Basara 2!
Late last Wednesday, Ichikawa was out drinking at a gay bar with kabuki colleagues in Tokyo's Nishi-Azabu neighborhood, near Gonpachi (also the locale of Capcom's Tokyo Game Show event).