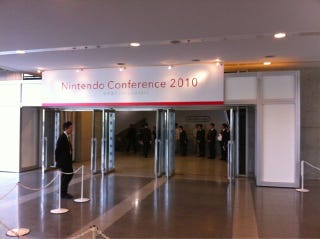 At the Makuhari Messe in Chiba, Japan, Nintendo is expected to reveal details about its upcoming portable, the Nintendo 3DS.
Kotaku will be culling all the highlights and bringing them to you in real time. We're one-stop shopping!
And the press conference has begun. Satoru Iwata has taken the stage — he's decked out in his Japanese company president wear (a three-piece suit).
He is now talking about Pokémon: Black and White and how amazing the game did during its first two days on sale. The game sold 2.55 million in its first week.