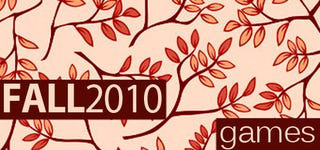 Fall is supposed to be the best time of the video game year, the entree and the dessert after the first nine month's meager salad and interactive appetizer. But in 2010, the winter and spring were bountiful and fall is at risk of seeming pathetic. Could it be? These are your fall games of 2010.
Late September
Dead Rising 2 (Xbox 360, PS3, PC)
What It Is: Biker vs. zombies, zombies and more zombies. Chuck Greene has zombies to slay. He's also got a fake Las Vegas stocked with chainsaws, roulette wheels, bowling balls — and anything else you could expect to find — with which to rend them into smaller and smaller zombie parts. The sequel adds two-player co-op and the ability to duct-tape weapons objects together into more undeadly weapons. The game gets a tilt for the Xbox 360 thanks to exclusive preview and postscript downloadable content.
Should You Play It: This is the slightly kinder Dead Rising than the hard-to-save first one, but with a new development team at the helm, this goes in the Wait For The Review category.
Final Fantasy XIV (PC, PS3 Version coming in 2011)
What It Is: Battling, gathering, and crafting in a fantasy realm with thousands of your closest friends. This follow-up to Final Fantasy XI is a massively-multiplayer romp through the lands of Eorzea. The ability to change jobs on the fly gives players the chance to sample every profession on a single character.
Should You Play It: This is a dense MMO with some overly complicated mechanics. With the full release still a few days away, waiting to see how the launch pans out might be prudent. Follow our Final Fantasy MMO Logs to see how our adventures in Eorzea pan out.
And There's More: Another year brings another Guitar Hero, this time Guitar Hero: Warriors of Rock (PS3, Xbox 360, Wii). In sports, EA promotes 11-player-co-op on the console versions of FIFA 11 (DS, PSP, PS2, PS3, Xbox 360, Wii). Tecmo Koei delivers a Japanese-game-that-kinda-looks-like-Gears-of-War in Quantum Theory (PS3, Xbox 360), Nintendo possibly thanks Tecmo for making Metroid: Other M by releasing Samurai Warriors 3 (Wii). Square-Enix strolls out mech sequel Front Mission Evolved (PC, Xbox 360). NIS America brings Gust's popular Atelier role-playing game series to the PlayStation 3 with Atelier Rorona: The Alchemist of Arland (PS3).
And let's not forget submerged shooter Hydrophobia (PS3, Xbox 360).
---
October
Castlevania: Lords of Shadow (PS3, Xbox 360)
What It Is: European development studio Mercury Steam, with an unclear amount of assistance from team Hideo Kojima of Metal Gear renown, try to turn the classic vampire-killing Castlevania series into a three-dimensional game. They've done this by creating a chapter-based, adventure game that appears to mash up God of War, Devil May Cry, Uncharted and Shadow of The Colossus while retaining some of the whip-and-magic magic of classic Castlevania.
Should You Play It: This is one of those games conventional wisdom said was supposed to stink. But previews of the game have been positive. Could be good.