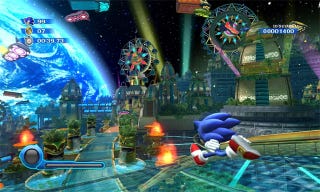 Longtime fans of Sonic the Hedgehog may be familiar with the phenomenon known as "The Sonic Cycle," seemingly a constant in the development of new games starring the blue blur. It's something the producer of Sonic Colors is confident his newest game will avoid.
For those who aren't familiar with The Sonic Cycle, it represents a Sonic the Hedgehog fan's emotional rollercoaster from Sonic game announcement to Sonic game release—at least those for those fans who have something against Sonic spin-off characters and hangers on, like Shadow the Hedgehog and Big the Cat, or cartoon hedgehogs that carry swords or guns.
Sonic Colors, series producer Takashi Iizuka claims, will break The Sonic Cycle. He's worked on a long list of Sonic the Hedgehog games, from Sonic the Hedgehog 3 & Knuckles to Shadow the Hedgehog to 2006's Sonic the Hedgehog.
Iizuka might be right about Sonic Colors. I enjoyed the levels that I played at E3, as did Stephen Totilo, who played it at PAX. The title's color based power-ups, which let Sonic spin like a drill or zip around levels like a laser, feel like a good fit for the character.