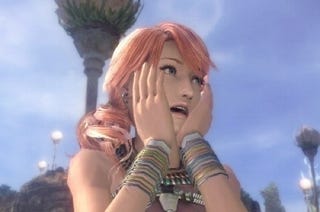 Back in 2008, Japanese game company Square Enix revealed that role-playing game Final Fantasy XIII was coming to the Xbox 360 — everywhere except Japan. That has changed.
The game was originally thought to be a PS3 exclusive. Last winter, it was released as a PlayStation 3 exclusive.
In August 2008, Microsoft Taiwan's Grace Chou apparently confirmed that an Asian Xbox 360 version of Final Fantasy XIII was getting released in Taiwan. This Asian version (which would conceivably be released in Taiwan, Hong Kong, Korea and Singapore) made Japanese Xbox 360 owners excited as it possibly meant they might be able to import FFXIII and play it on Japanese Xbox 360s. Microsoft contacted Kotaku at the time, telling us that this statement GNN Gamer was actually incorrect.