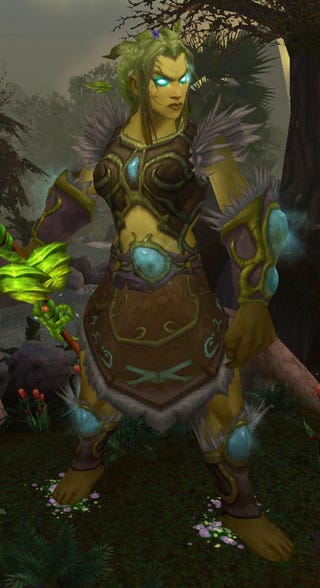 I never did put much stock in the idea that video games were "just games."
Indeed it's an underlying thesis of this site's mission [Editor's note: Referring to Border House blog, where this post was originally published] that video games and other cultural properties can have a huge impact on how we see the world. Or ourselves. On a personal level, however, they are also more than just mere games.
When I last wrote for Border House I alluded to the powerful meaning that escapist anonymity has for trans people who are still discovering themselves, and I also hinted at returning to WoW. After Blizzard withdrew their frightening forum RealID scheme, I decided to return to the game with a few friends. It would mark the first time that I'd play an MMO as a fully self conscious woman in real life as well as in game. Like so much else over these last few years, my view of WoW changed significantly.

Caption for image up top: The Avatar of Freya, a goddess of sorts in WoW, standing athwart an undead onslaught. One of a few new powerful female characters in the game. (A giant green skinned woman several storeys tall, brandishing a large, leafy staff and wearing ornate brown leather armour with sky blue jewels and insets)
Transition is not simply a change of one's gender, it has the capacity to change nearly everything about your life, including your worldview. How I saw WoW, having lived as a woman in public now and not just online, changed with me. My view remains a more or less positive one. After all, the grandest change is that my relationship to World of Warcraft is now quite different. Rather than a desperate escape from a life I loathed, it has become an amusing aside to a life I love.
I had also learned a lot since I last played. I suddenly saw social ideas writ large in the game's concepts. The racial undertones that often gird roleplaying games where humans are coincidentally European and other real-world human cultures are given pigeon holed non-human races. The way even female heroes are shown wearing very revealing or skimpy "robes" and "armour," or the occasionally poor writing for female characters. All of that analysis became impossible for me to ignore because something dramatic had shifted in my life. I was now well outside the target demographic of games like WoW.
That fact made itself clear to me in the fact that the game's heteronormativity — a word I didn't even know three years ago — is as relentless as it is in many other games and media, and suddenly it was impossible for me to varnish or ignore. It was no longer 'my' fantasy, a fact that intruded quite violently on my mind during the RealID crisis and in other recent events on the WoW forums where the mass of the game's population poured scorn on transgender people. What had made it clear to me was the fact that my own comfort in the game was now "political"- not in the classical sense of the personal being political, but in the sense of "politics doesn't belong in my game, so keep it out."
As I looked around, and even remembered some things I had dismissed in the old days I realised that 'politics' meant:
-Treating women respectfully in game.
-Avoiding the use of uncreative insults like 'retard,' 'fag,' and 'gay.'
-Having quests that showed any kind of LGBT character in a positive light.
Among other things. It was very strange how only those things were labelled as the toxic 'politics' that more than a few players said they "had to deal with all the time" and "wanted to get away from." What suddenly dawned on me as surely as if I'd been struck by a max rank Holy Fire was that the fantasy of these people, many of whom (but certainly not all) were cis white boys and men was a world where gay, queer and trans people didn't exist, and where women were invisible except as objects. Last year's controversy over the idea that there were "no gays in Star Wars" was another powerful reminder of whose fantasy these games often constitute. As one commenter on io9 put it: