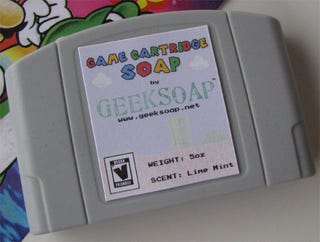 Consumer products like soap aren't risky; they have a fairly reliable recipe for success. Nobody demands innovation from soap. Are games just consumer products, too?
When I was a kid, my dad was a video game journalist. Well, sort of. Actually, no, not really. Dad wrote about VCRs, home computers and Hi-Fis in a "home technology" column, and video games were lumped in. They were software for the Commodore 64 or the Apple IIc; the Atari and the Coleco were pieces of hardware appropriately placed, both in Dad's coverage (by the way, if you're reading this, happy 60th birthday, Dad) and in rec rooms 'round the nation, alongside the Betamax and the VHS. You know, technology products.
What little specialist coverage games received tended to resemble product catalogs more than the entertainment magazines the likes of which we see today; with simple mechanics and simpler graphics, games appeared to be in lock-step with other tech novelties of the 1980s – look! Our house has digital ping-pong! And that was that.
Even in arcades, games' breeding ground, the cabinets we played were technology products first. We talk a lot about "the arcade era" whenever we look at those game mechanics or design forms that are inherited from the days when the main goal of game design was simply to frustrate the player enough to make them pump a few more quarters in. When Toru Iwatani created Pac-Man, even the idea of giving ghosts Inky, Pinky and Blinky their own names and identities was controversial to his boss, as was the idea of adding "story" and "cutscenes" (the primitive chase sequences between levels).
But Iwatani had a theory: Putting a little color, a little theme and a little story into Pac-Man was going to make it appeal to a wider audience. He believed that creating points of empathy for players would keep them playing longer. Of course it turned out he was right, and his faith in that core concept helped make Pac-Man not only a smash hit game, but installed the yellow circle with gaping mouth as a permanent cultural icon.
Today, if any game critic decided to write a piece on "Story And Empathy In Pac-Man," her audience might accuse her of reaching just a little bit. In an environment where immersion and emotion are oft-discussed and gamers demand realism, it's hard to believe there was once a time when games were just footnotes to be mentioned in brief, beside a review of the latest VCR.
Perhaps it's that legacy to which film critic Roger Ebert was referring when he said that games aren't art, much to the furious chagrin of gamers everywhere. What, is he crazy? Our favorite games have impacted us way more than any movie we can remember; isn't something like ICO or Heavy Rain more noble a creative effort than the nine-millionth checklist heist flick, or Summer Blockbuster Featuring Explosions, Vol. VII?
Games have worked hard over the past few generations to shed relic elements that are no longer relevant – "lives" and "continues," for example, largely useless throwbacks to the coin-op days – and add elements like auto-saves, online persistence, multiplayer and other elements better suited to a modern living, breathing home console experience. But one trait remains: They're still carrying with them that stubborn "product" identity.
Nobody calls a film a "product." And though we may trumpet ideas of art and immersion to the hills, there are plenty among us, from the executive boardroom all the way down the chain to the gamer's living room, who whether they realize it or not, are still clinging to that definition of games with the strictness of need.
In some cases, this mentality starts at the top. Plenty of games execs see themselves as stewards of companies that produce products, and come from general "consumer product" backgrounds or other non-gaming fields – Activision COO Thomas Tippl is one example, having served at Proctor and Gamble (they make soap, among other things) before joining the game industry's biggest powerhouse. Brian Farrell worked in real estate and finance before becoming THQ's CEO, for another. Gamers seem especially concerned about whether the folks making the big biz decisions actually play video games; EA CEO John Riccitiello often goes out of his way to discuss his hands-on gameplay experiences with EA's and other titles, as if he felt it important to demonstrate that he does.
But as business models in games evolve beyond the $60 retail package, and subscriptions, microtransactions and add-on DLC become increasingly the norm, lately it's seemed even gamers are completely on board with the business-driven, consumer-product conceptualization of their beloved play medium. The recent news that Blizzard would ultimately begin charging for name changes in StarCraft II was met with a surprisingly muted reaction from the gamer community – there was some ragin', sure, but it used to be that a beloved gaming house like Blizzard couldn't even mention the possibility of paid add-ons without shredding the gamer internet in a controversy over nickel-and-diming and how they were being betrayed.