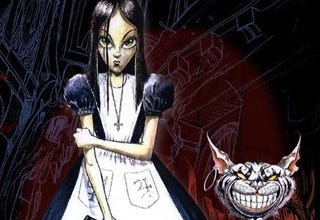 A strangely Tweeting member of the family Leporidae teases big news about Alice: Madness Returns, the newly-named action-adventure return of American McGee's Alice, due out next year from Spicy Horse.
Thewhiterabbit Tweets, "Follow me and stay tuned for a major announcement from the mad world of Alice today!," which leads us to believe that one of EA's big game reveals today will have something to do with the return of American McGee's finest creation. Thewhiterabbit's Tweet was retweeted on the official EA Twitter, leaving Alice fans all a'flutter.
The Twitter account info lists the game as an action-adventure title, due out in 2011.
We've not heard much about the return of Alice since we spoke with American McGee regarding the follow-up in February of last year. During the interview it was revealed that the creator had been given a blank canvas to take the next game where he liked.