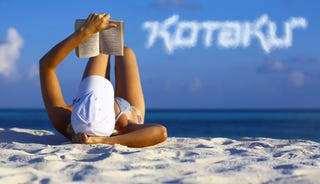 As sure as spring gives way to summer, Kotaku's 2010 Summer Reading List is here to help you get your portable video game fix during the sunny, sandy situations where gaming isn't an option.
The sun is shining, the birds are singing, and the surf is gently lapping at the shore. While that all sounds idyllic, it's not exactly a prime setting for video game playing. The sun glares off of your portable's screen. Bird droppings and sand can ruin electronic components, and that crystal clear water? Forget about it. Leave your gaming fear at home and curl up on the beach with one of the excellent selections from the second annual Kotaku Summer Reading List.
Just like last year, we've compiled a list of some of the best video game-related reads your money can buy, including straight-up adaptations, side stories set in your favorite video game universe, original fiction, and non-fiction.