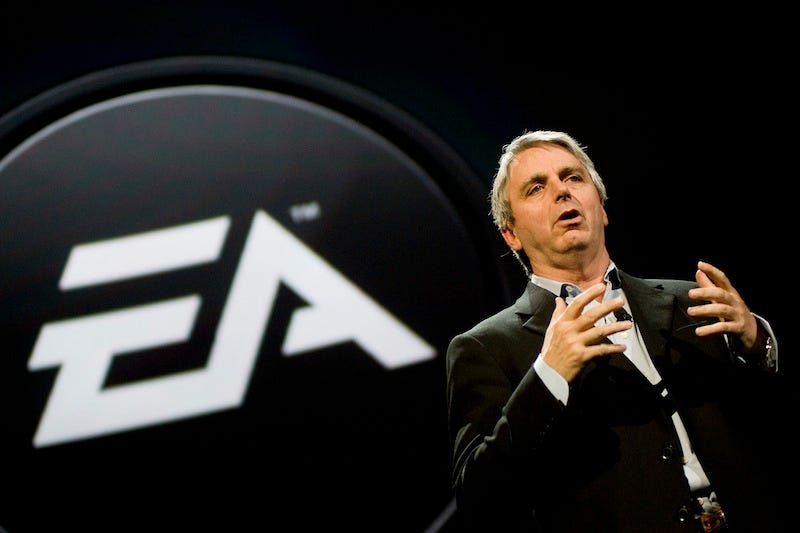 If we ran a video game company, maybe, just maybe, those of us who play video games would be like John Riccitiello. We really could be a boss. We could believe we're the good guy. And we would know things about video games.
We would possess in our core the knowledge absorbed by holding a controller for many minutes of our life.
We would be able to tell anyone what is (obviously) good about being able to have brick walls break in a first-person shooter. We could tell everyone what was (not so obviously) wrong with Mirror's Edge.
We would know these things, because we play video games.
But would knowing things about games make us a better gaming CEO?
That's the John Riccitiello question, the question of what happens when a guy who "gets" games, a guy who can hold his own talking about them, is in charge of one of the biggest gaming companies in the world. It's not that John Riccitiello is some gamer who got lucky. He's a former executive from Pepsi and Sara Lee on his second tour at Electronic Arts. That would be EA, the company that before Riccitiello's return was considered an evil empire, an assembly line for games that could be simultaneously shiny and dull, the company that overworked its employees and never even made the second-best game of the year. That company, gamer John Riccitiello believes, is capable of making the best games in the world.
What The Boss Plays
This is the funny thing: The boss of one of the biggest video game companies on Earth plays video games. The driver of the Electronic Arts behemoth that bellows a new Madden, a Need For Speed and dozens of other games into the gaming market each year is a gamer. Maybe you would find it funny that it is funny. I have interviewed top gaming executives at Sony, Nintendo, Microsoft and Sega during my nine years covering games — many of them smart, insightful men and women — and I can confidently say that few betrayed more symptoms of having played lots of good video games and having thought deeply about them than EA's John Riccitiello.
When we spoke earlier this month, Riccitiello told me that being a gamer wasn't the only thing that matters when proving one's qualifications as a gaming CEO. A boss in his field could maybe even do without it. But, he added, "Could you imagine, say running a book publisher if you didn't read? Or running a movie studio if you don't watch TV or go to the movies?" These are not the words that come from the mouth of Riccitiello's successful chief competitor, Activision boss Bobby Kotick, who had to explain to Kotaku in June that he didn't mean it when he told a crowd of game creators in February that he doesn't play video games.