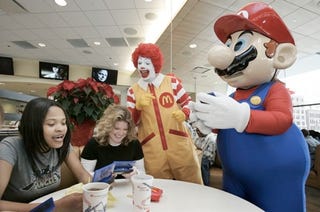 The king of fast-food. The biggest Japanese video game company. Nintendo and McDonald's have been in cahoots for years.
The recent news that McDonald's is using the Nintendo DS to quickly train new part-time employees is just the latest in a long, long line of Nintendo-McDonald's tie-ups. This collaboration helps McDonald's cuts training time in half. McDonald's will procure 2 Nintendo DS units for each of its 3,700 restaurants in Japan.
Nintendo and McDonald's have been working together since the days of the Nintendo Entertainment System. Take McKids or the Super Mario Bros. III ad campaigns, for instance. These two are thick as thieves.
Both of them had something that the other wanted and needed: the attention of kids. From the start, it was a win-win relationship. Kids like McDonald's. Kids like Nintendo.
The early efforts, though, got more complex when Nintendo consoles like the Nintendo 64 (later, the GameCube) started appearing in Nintendo playlands. If the playland slide was not enticing enough, the chain could offer video games!