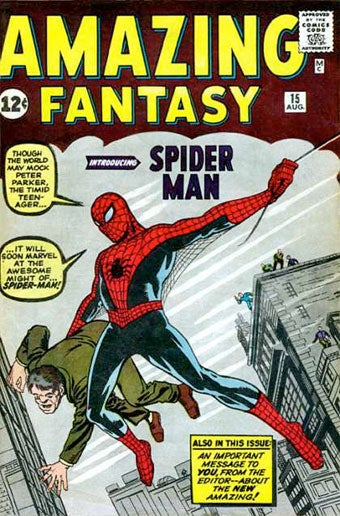 Jason McIntosh, producer of television show The Gameshelf and writer of the blog of the same name, explores the similarities between the video game and comic book markets of the past and present. Here, his second entry on the subject.
I wish to make an extended footnote on last Monday's post, regarding further similarities I see between the comics and video game markets. When I was in high school I went through a profound comics-geek phase where, beyond the typical obsessive book-hoarding, I undertook to learn everything there was to learn about that medium's history (a full decade before Wikipedia came 'round, my son). I've long since sold my longboxes full of Mylar-bagged pulp, but that knowledge remains, and I can't help but get very tangential when I have reason to compare comics to any other medium. Having thus further established my nerdboy bloviation credentials:
I see Valve Software today holding the same position in the overall media landscape that Marvel Comics occupied in the early-mid 1960s. In both cases, we have two experienced studios, neither the mainstream-recognized giants of their fields, who made an unusual decision: they chose to spend the creative capital gained from prior commercial success to quietly revolutionize their respective medium's dominant genres, rather than take the safer path of grinding out more derivative sameness.
The Orange Box, you see, is Valve's own Amazing Fantasy #15. In 1962, that generic-sounding title was the magazine issue that introduced the world to Spider-Man, a hero who wasn't the usual sort of alien demigod or unapproachable avenger that had defined costumed-adventurer tales for decades. Instead, he was a nerdy kid with a crappy life whose heroics were just as much an escape for him as they were for his readers. Sure, he ran around in long underwear and beat people up, just like his literary forebears had been doing for years: Spider-Man continued to embrace the core tenets of his genre. But did so in a way that was so personable, so identifiable, so likable, that it helped to redefine the superhero genre — and, in turn, forever change the face of western comics.
Similarly, headlining The Orange Box was the continuation of Valve's known-quantity Half Life series, but the actual payload of the package comprised Team Fortress 2 and Portal. Both of these games are shooters, through and through, as much as Half Life is. But beyond being exemplars of their genre, they both brim with personality to the point of being lovable. There's a reason why the internet is filled with fanart of the TF2 gang, the weighted companion cube, and the rest of Valve's recent characters, while the literally faceless and fungible army dudes of Modern Warfare 2[1] make few appearances outside of the game's own "realistic" and utterly colorless warzone.