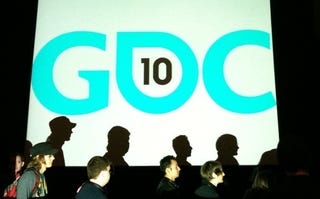 Our guy in Tokyo has descended upon San Francisco's Game Developers Conference. We asked him for a report. This is what we got.
I don't have internet access in my hotel room. This is the year 2010, the year that Arthur C. Clarke imagined we, the human race, would be first making contact with aliens from another planet / galaxy / or dimension, and I can't even get on the internet to fact-check the inflammatory nonsense I'm about to write.
The only way I can access the internet in this place is to sit tethered to the wall on a three-foot cable next to the television in the living room of this suite. I am staying with two friends because, hey, that's the sort of thing I do. We have two sofas in the living room, and a king-sized bed in the bedroom. Tonight is my night on the king-sized bed. My lord, this bed is delicious. I really want to sleep in it.
It's weird. I really can't get in the mood for writing without some intense form of distraction. I need to be able to look up completely random shit on Wikipedia or chat with friends as I write, or I get bored and things fall apart. For the first time in a long time, I have chosen television as my distraction: Jimmy Kimmel is interviewing recent Academy Award winner Christoph Waltz.
I attended more than a dozen panels in the past two days of the 2010 Game Developers Conference here in San Francisco, California, USA. I didn't take notes, because I thought I would be a total skeeze and use features or articles written about GDC on other websites to remind me of the things that I saw or heard at the panels I attended. Well, that's not going to happen. All I have to go on is a stack of evaluation forms from all the talks I attended. I feel bad about not handing in any of them. I didn't fill most of them out. The one that I did fill out in any capacity was for a talk on porting UE3 to the iPhone. I found that talk pretty helpful, considering that I might be making a UE3-based game for the iPhone at some point. I don't want to talk too much about it because it would make me look a lot smarter or cooler than I'm used to making myself look in these dumb things I write here; I have a reputation to uphold, so let's just say that I wrote numeral sixes next to the fives in evaluation categories, circled those sixes, and then wrote, under "please share your comments and suggestions for improvement below or on the back of this sheet", "chips and salsa."
I had figured that my comment would be interpreted as "at least give up chips and salsa if we're going to have to sit through this boring shit," because hey, it seems to be my nature to have my sense of humor misunderstood. Really, the message was supposed to mean "the only way to make this talk even better would be to give us all complimentary chips and salsa, dude."
The highlight of attending GDC has perhaps been the part where I approached Jesse Schell, who recently gave a fantastic talk at the DICE summit, and he told me that he'd read the entirety of a recent article in which I riffed on his talk. Schell gave a talk Wednesday on the subject of designing games that parents and children can play together. His was part of a series of talks on social games, though as his talk crescendoed into a brief exploration of how and why the bond between a parent and a child is the deepest any human being can know, it seemed to me that the topic could also belong to the series of talks concerning "serious" games.