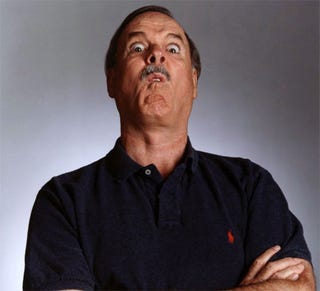 Monty Python's John Cleese will be your butler in the fall's role-playing game Fable III. Perhaps you are wondering why you will have a butler.
The top two men behind Fable III, Lionhead Studios' Peter Molyneux and Josh Atkins, took turns this morning at Game Developers Conference describing new and changed mechanics for the series.
The addition of Cleese is just one big change. His character wasn't shown, but Cleese will play the role of a butler that you encounter when you press the start button in the game. In Fable II you'd take that action and get a 2D menu. In Fable III, your character will appear in a room full of his clothes, potions and a table representing the world map. Cleese will be in there to add some humor.
The move away from a 2D character-customization interface and toward a Cleese-enhanced 3D space is part of the Fable III team's determination to get series players to actually use more of the series' features.
Molyneux lamented that more than half of the people who play Fable games use less than half of Fable's features, despite all the hard work Lionhead puts into them. They don't change their character's clothes. They don't level up their various stats. By making more of these options thins the character can do in 3D, they are more likely to be used. Molyneux compared Fable II-style 2D wardrobe selection to wandering through one's virtual closet chamber in Fable III. The former, he said, "is kind of like ... using index cards to choose what you will wear." (The designers believe they will also be able to get more players to use more of the game's features by making those features more clear: This time, if you want muscles, just use heavy weapons; if you want to be lithe and agile, use guns — as we've reported, no more experience points.)