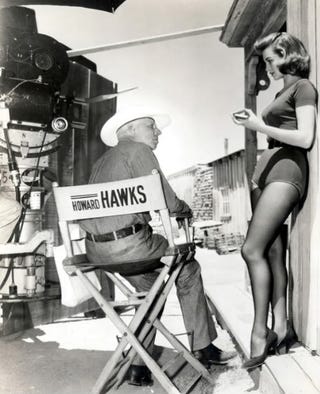 As with movies, big time video games need huge numbers of people. Hundreds of developers toil away on AAA titles. With all those hands in the development of a game, is it possible to pin the title to a single author like critics have for films?
Traditionally, film producers and directors get their names at the end of the opening credits. However, it wasn't until the 1950s that a group of film critics and later New Wave directors like François Truffaut, Claude Chabrol and the Swiss-born Jean-Luc Godard at the French film journal Cahier du Cinéma came up with what's called the "auteur theory" with "auteur" meaning "author" in French.
The "auteur theory" was and is a largely romantic notion. In short, the theory championed directions, but not all directors. Those with a vision. Filmmakers like Alfred Hitchcock (Rear Window, Psycho), Nicholas Ray (In a Lonely Place, Rebel Without a Cause), Billy Wilder (Double Indemnity, Ace in the Hole) and Howard Hawks (Rio Bravo, His Girl Friday) were praised for having a clear, defined point-of-view and for making films that reflected. Even though, for example, Hitchcock and Hawks worked with a myriad of writers and producers (Hawks worked in a variety of genres, too!), their films always have an unmistakable signature — whether that be camera work or dialogue. Nobody else could have made them. Film is art, and these weren't merely directors, they were auteurs. They were artists.
On the other hand, someone like Michael Curtiz might have made a wonderful film with Casablanca, but Michael Curtiz was certainly not considered an auteur. It is interesting to note that Howard Hawks disliked Casablanca so much (especially the singing scene) that he took Ernest Hemingway's "worst" novel To Have and Have Not and turned it into his take on Casablanca. Not only was the first pairing of Humphrey Bogart and Lauren Bacall, but also the first film to feature two Nobel Prize winners in the credits (Hemingway for the original story and William Faulkner for the script).
"Auteur theory is basically a theory about creations sharing coherent identities from an author," says Flower creative director Jenova Chen, "so that people manage to memorize and become able to identify works from their creators." So in movies, Howard Hawks movies are about a group of people, usually professionals, coming together. And when those young French critics became filmmakers themselves, they made films like The 400 Blows or Breathless in which the director's presence was undeniable — as proof, in the wake of Truffaut's early success, he simply lent a story treatment to then film critic Godard for Breathless, which is certainly not a Truffaut film, but very much a Godard film. Without getting into a discussion over what is and what isn't art, if you consider video games art as well, then who is the primarily author of a game?
Video games are not made by one person. Then again, neither are movies! Yet, there does seem to be a need for someone driving the title as opposed to dreaded design-by-committee games. "I do believe in the auteur theory and consider myself a bit of an auteur in that I think a great deal of my soul, world view, and personality is stamped on all the games I work on," says God of War creator David Jaffe. That is why you sometimes hear that he is difficult to work with. "It's not because I'm an ass or a jerk — I think I'm a pretty even tempered guy — but I do come to the table, as the director or co-director of a game, with a very specific vision of what the game needs to be and if you are on the team with me and you are not on board with that vision, it will be a challenge." The best cases, Jaffe adds, are when team members take your personal vision and add to it, improve it, and make it into a team vision.
Jaffe's not being dogmatic. Even for him, the team is key. The team, however, must be on board with the project, because it is going to move it forward by contributing to it. Yet, Jaffe is one of those game designers people know by name. Ditto for Sid Meier, Hideo Kojima and Tim Schaffer. Their names are used to sell the game. Hideo Kojima's brand recognition is so strong that Konami has brought him in for the upcoming Castlevania game.