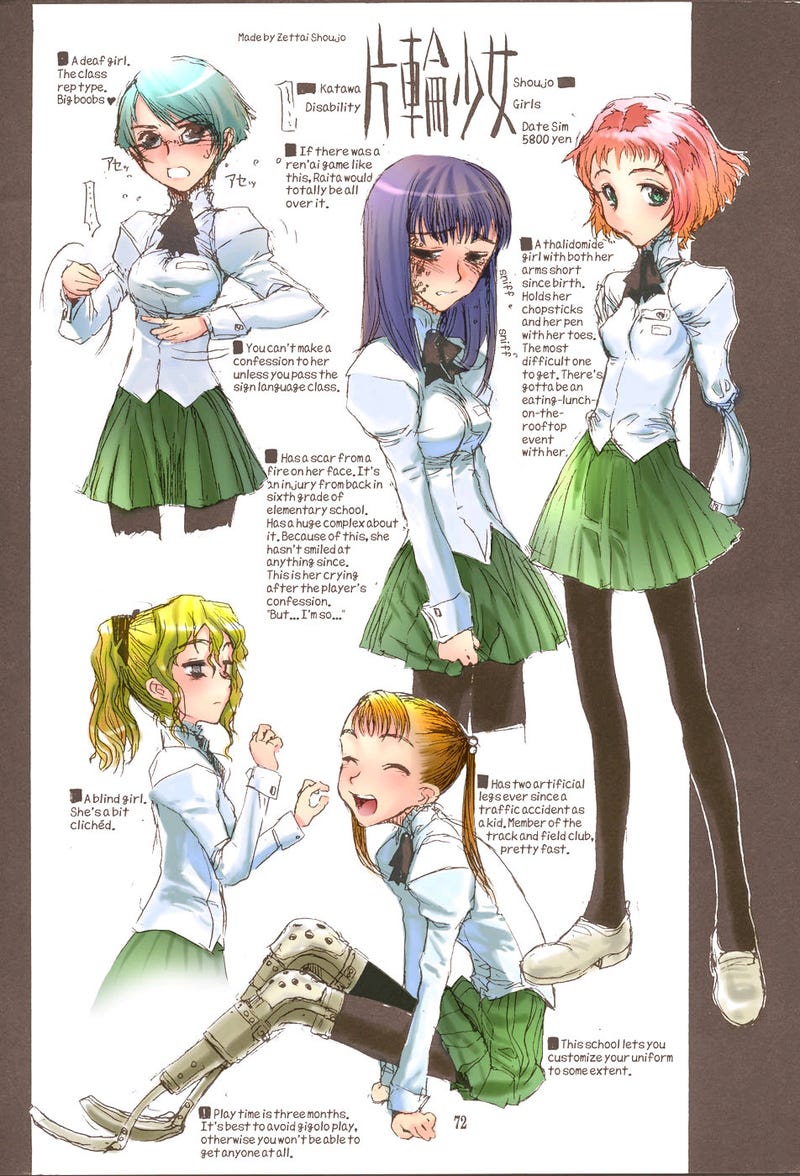 About three years ago, one of the most notorious online message board communities decided to create an unusual video game. It would be a Japanese-style erotic dating simulator starring girls with disabilities, a topic not unfamiliar to the 4chan group.
The genesis of Katawa Shoujo, an erotic visual novel set on a private campus for disabled high schoolers, can actually be traced back to a phenomenon that began several years ago on the 4chan /b/ board, where posters enjoy some of the Internet's strangest images and subject matter under cover of anonymity.
What started then, a seemingly sexualized interest in disabled girls by a fervent online community, could have just been twisted or shocking, as could the game that seemed to emerge from that interest. But what really happened involved more sadness and sentimentality than one might expect.
In 2006, stories began appearing from a poster claiming to be a male nurse who had just received as a patient a half-Japanese seven-year-old girl missing an eye and all her limbs save one arm, injuries from a car crash that had also left her orphaned.
The poster seemed aware that this situation would entertain the board users, an anonymous collective notorious for their often-shocking culture of extreme imagery and offensive humor. As one might expect of this group, the board users quickly made an occasion for pedophilic jokes and snark about the child's injuries. Less expected was the genuine sentiment that emerged as more stories and updates on the tragic patient from the ostensible nurse began to appear.
The story may not even have been true. At first, the board users were as interested in attempting to verify whether the poster, whom they dubbed "Nurse-kun," and his patient, to whom they widely referred as "ampu-chan," were real based on scant details. Eventually, however, many stopped being concerned with verity as they became immersed in the updates on the child's difficulty coping as she recovered in the care center.
Readers were captivated by glimmers of positivity – such as Nurse-kun's stories of the girl learning to play DS one-handed with her nurse's help. They became indignant on the child's behalf when she was the victim of a racist rant from an elderly World War II veteran receiving care in the same center. They closely followed the Nurse's growing investment in her well-being – which, despite the initial joke, he maintained was non-sexual. If the posts are to be believed, Nurse-kun ultimately succeeded in adopting the orphan whose plight had touched him so deeply, and then stopped writing.
The board users never stopped making sexual jokes. They were accustomed to the puerile body forms common in anime and gaming and to expressing themselves within an anonymous internet culture that thrives on extremes. It's clear at least some of them found, or pretended to find, an element of the erotic in the vulnerability of the amputee child. But the nurse's story certainly had its sincere followers, those who claimed to be moved and who offered well-wishes. They pressed for contact information so that they could send donations and gifts (the nurse understandably declined). The reason was probably muddled and a bit backward, but still the "saga of Nurse-kun" had struck a chord.
"Disability Girls"
4chan's /b/ board and the anime-focused /a/ board consider themselves separate culturally, although there's plenty of obvious overlap. Both boards saw a major surge of interest in artwork of injured girls around the time of the "Nurse-kun" saga, although "wheelchair girls" have been something of a trope in spheres of anime and gaming for some time – and the image of a bandaged and eye-patched "Neon Genesis Evangelion star Rei Ayanami is practically iconic to anime fans.
The boards began more regularly spawning fetish threads devoted to eroticizing girls and women with prosthetics and eye-patches, complete with glib text about "damaged goods" or "ampu-chans." But it was a single image on the /a/ board that sparked the idea for a gaming project: a sketch by a doujin artist called RAITA proposing several characters for a fictional dating game based on disabled Japanese schoolgirls.
The board's anonymous users wanted the RAITA-inspired game concept to be real so badly that they decided to make it themselves. It's surprising on its own that there is such a polished result, but maybe it shouldn't be; despite being entirely anonymous and dispersed all over the Western world, 4chan users have mounted highly effective group efforts in the past, like making sure founder Christopher "moot" Poole was crowned Time Magazine's Most Influential Person Of The Year in 2008, or launching several widely-documented protests against Scientology.