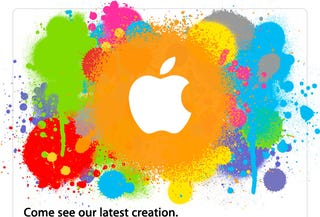 Invitation sent to Kotaku today: "Please join Apple on January 27 for a Special Event." Assumption made by Kotaku today: iSlate reveal? Now, why would Kotaku be sent that?
"Come see our latest creation," the colorful invitation states.
Earlier this month, The Wall Street Journal reported that Apple's long-rumored tablet computer, the iSlate (perhaps?) would be shown to the press and the world on January 27. Today's invitation from Apple, e-mailed to Kotaku and numerous other outlets, suggests Apple does indeed have something big to announce that day at a morning event in San Francisco.