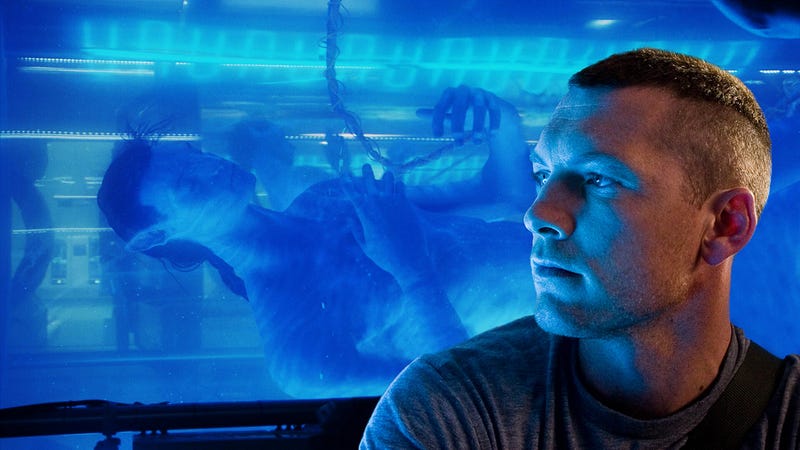 In one of the most roundabout and expensive methods in history, James Cameron's new movie, Avatar, proposes that those of us who have honed our video game skills in the 21st century could become the world-saving diplomats of the 22nd.
Avatar is the $300-million (or so) new movie from the director of Terminator and Titanic, a futuristic amalgamation of Cameron classic Aliens and Kevin Costner white-man-joins-the-Native-Americans movie Dance With Wolves. It is an American movie transparently critical of the United States of America, one that is simple in both good ways and bad. It is beautiful in ways only good, and, yes, in that roundabout way, it says something about the future of video games.
The movie occurs midway through the 22nd century, as wheelchair-bound grunt Jake Sully (Sam Worthington) assumes the mission of his deceased brother, shipping out across the universe to the planet Pandora, where a private corporation has enlisted both scientists and a private military to help them obtain a nearly priceless element unironically called Unobtainium. The military forces, led by the scarred and scowling Colonel Miles Quaritch (Stephen Lang) itch to clear the planet's best site for mining by blasting away the natvies who live on top of it. These natives are the tall, skinny, blue-skinned cat-like Na'vi, who live in the massive tree on that site and are the visual signature of the film. The scientists, led by Dr. Grace Augustine (Sigourney Weaver) utilize Avatar technology, enabling Augustine, Sully and others to transport their consciousnesses into artificially-created Na'vi bodies and walk among the natives in the hopes of establishing either an economic trade or peaceful motivation for the Na'vi to move.
Early in the film, Sully, in his Na'vi body, is separated from his colleagues, lost to the wild and rescued by a Na'vi chief's daughter, Neytiri (Zoe Saldana). What follows is a film about Sully's education of life amid the Na'vi, the battles that erupt between humans and natives and a crossroads decision about who is right and with which sides the key players will align.
Loved
A Beautiful Place: Whether you watch Avatar in digital 3D, as I did, on IMAX or even in the plain old-school way, this is a movie of tropical-vacation beauty. It is an escape, on this planet Pandora, to an imaginative ecology of many-legged horses, helicopter bugs, hammerhead elephants and a variety of magical plant life that is so lovely that the setting alone has motivated me to try the Avatar console game, a game for which no demonstration of gameplay nor review had motivated me to play. If a video game can be my own transport back to this world, I will suffer through the reported mediocrity to see those plants and animals again. This is a dream world and the ultimate Al Gore planet, a combination of a lush green paradise and Internet-like network of natural electricity, a place to which I am eager to return.
A Beautiful People: The Na'vi have been created with the reverence many North Americans now have for those tribes that lived between the Atlantic and Pacific before our ancestors and forefathers squeezed them into reservations. (Speaking of which, see our sister site, Io9, for an excellent exploration of the "white guilt" in effect here.) They are also digital marvels, an impossibly lithe but visually believable band of hunters and shamans whose every tradition, from wrangling their versions of horses and hawks to climbing their floating mountains is a thrill to watch. Neytiri indoctrinates Sully into many of the aspects of Na'vi culture, nearly all of them a delight to witness.