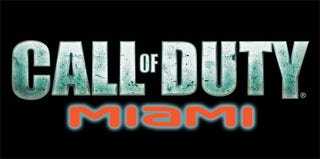 Having two teams dedicated to annual output of Activision's Call of Duty franchise may not be enough for the publisher. A report from the LA Times says that a third team is now tasked with Call of Duty development duties.
While the news outlet doesn't name the studio responsible for providing gamers with even more of the Call of Duty that they clearly crave, having a third team dedicated to pumping out future iterations could mean any number of things.
One possibility could give current Call of Duty developers Treyarch and Infinity Ward more time to produce entries in the core series, offering them a three year development cycle instead of the two year turnaround time in place now. Another is semi-annual releases, which may be pushing it.
Or, this third team could be focused on a different Call of Duty model. Activision CEO Bobby Kotick has publicly expressed this thoughts on a massively-multiplayer online take on the series. Activision CFO Tom Tippl has also teased "additional online monetization models" for the Call of Duty brand.