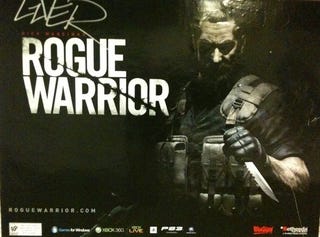 The slightly defaced ad for Bethesda's fall shooter Rogue Warrior, photographed by me at my local subway exit near Kotaku's NYC branch office, had one feature that turned my head: The two small words in red.
The two words are a name, a name that was not immediately familiar to me. "Dick Marcinko."
When I saw them, I should have remembered our Brian Crecente's preview of Rogue Warrior from April. In it, he confirmed what the appearance of those two words implied to me: That you place a name like that on an ad, right above the logo, if you want whoever sees the ad to think the name there belongs to a real person.