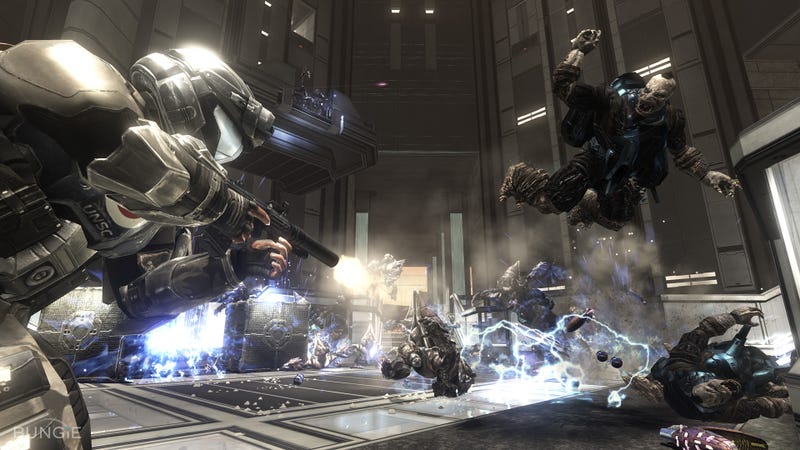 Halo games are mighty productions, but Bungie's latest offers intentional and unintentional weaknesses, allowing the studio to experiment and excel. All this while showing rare vulnerability.
Bungie's fourth Halo game, Halo 3: ODST, will officially be released for the Xbox 360 this week. A side story of a campaign that leads into the events of Halo 3, the game stars less powerful protagonists than series champion Master Chief. It is packaged in a way that has provoked consumer doubt. And it's set for a market rematch against its only formidable competitor in the past eight years.
The ODST package is an unusual bundle. It combines a first-person campaign playable by up to four gamers and can be completed more quickly than those of previous Halos. It also offers three new competitive Halo 3 multiplayer maps, 21 Halo 3 maps that were previously available for purchase and 10 maps of a new cooperative combat Firefight mode along with an as-yet-unusable invitation to the online beta for Halo: Reach, Bungie's next Halo game.
The campaign puts players in control of a rotating cast of Orbital Drop Shock Troopers, switching control back and forth between Rookie, who is playable in a timeframe set several hours after his team's drop into the besieged Earth city of New Mombasa has gone wrong, and different members of Rookie's squad. The latter are playable in flashbacks set immediately after the drop. It's all set in first-person, and the series-staple Covenant are the enemy. Master Chief's most powerful vehicle-jacking moves are gone and health is harder to restore, but ODSTs are still fierce warriors.
Loved
Genre-Topping Combat: Halo 3: ODST has been promoted as an adventure of urban combat, an open-world nighttime journey through the ravaged city of New Mombasa that is interrupted by the game's main missions: playable, linear flashback sequences set mostly in broader battlefields like bridges, rooftops and the outskirts of the city's zoo. Whether set in alleyways or under a big sky, the battles engineered by Bungie are as interesting and dynamic as ever. The tactical triangle of guns, grenades and melee is pitted against a familiar and excitingly smart cast of enemies who rush and cover and toss their own grenades in ways that make most skirmishes tales worth re-telling in their own right. Bungie paces the linear flashback missions well. One highlight is a tense and constricted rooftop battle that culminates with the explosive defense of a landing zone from an intense aerial assault of fighters and troop carriers.
Vehicles Worth Driving: I've written before that Halo, to me, represents the digital realization of the 11-year-old boy's fantasy of playing combat with his GI Joes. As a boy and now as a Halo player, I enjoy the toy experience of smashing enemies with an armed truck or flying down a canyon of skyscrapers with a purple hoverplane that shoots lasers. The most direct access to vehicles is in the flashback missions, and each fight through battlefield hell on a Halo ride is a thrill.
A Better Side Story: ODST creative director Joseph Staten has told Kotaku that Bungie's new game is inspired by noir and its cast of colorful, lone-wolf detectives searching for clues in the mean city. The players' main character, Rookie, gets to adopt a role like that as he creeps through the dark enemy-patrolled streets of New Mombasa using a series-new visor that highlights items and characters of interest amid the blackness. Rookie searches for beacons that trigger those playable flashbacks which star his squadmates in the hours right after the ODSTs' illI-fated drop. The beacons are curious items — a helmet smashed into a big monitor, a rifle dangling from a power line — that evoke small mysteries of their own. The flashbacks explain their origins.