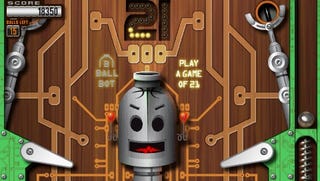 Until my flight today, when the cabin pressure may have been tweaked to make me imagine what I experienced on my PSP, the oddest basketball video game I'd encountered was from Square-Enix, featuring Super Mario. That one now seems plain.
It turns out, I've been blind to the madness that is Sony's portable NBA games. I had assumed that they are mere basketball simulations.
Wrong.
On my flight, you see, I just failed to defend the city of Los Angeles from two midget Phoenix Suns basketball players, despite my command of four giant-sized Los Angeles Lakers. I was defeated. California's top players stood helpless as their yellow uniforms turned purple and gray. L.A. fell, conquered.
At least I'd put up a better fight against the Suns than I had against the B-Ball Bot, a robot that had trash-talked me as I played one of NBA 10: The Inside's many odd modes: Robot pinball. Through a robotic voice-over the Bot had informed me that it was "the greatest basketball playing robot ever made," and told me "Mankind reached its peak with my creation ...your fingers are no match for my gears."
The robot was part of NBA 10: The Inside's odd pinball modes. The midgets vs. giants stuff was part of what I believe might be the world's only amalgamation of basketball, Risk and Advance Wars.
This early October game is one of the oddest things I've played in a while. I like that, though I am dismayed that I somehow missed that the robot pinball was also in last year's game. So were the quest modes, though the ability to storm the nation, strategically, as a dodgeball team rather than a basketball one is indeed new.
We ran a story recently about how many avid gamers dismiss sports games. Our Luke Plunkett argued that even traditional sports games offer pleasures that gamers of non-sports games would enjoy. You didn't all already know that Sony's NBA games were this stuffed with odd and interesting gameplay, did you? Am I the only one who was unaware?