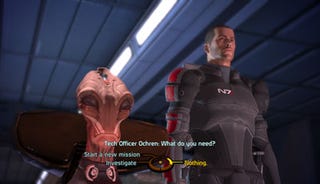 I had played 29 hours and 56 minutes of Mass Effect, but last night I could not reach the new content in the game's add-on release, Pinnacle Station. I had forgotten one of the common complications of downloadable content.
In this era of common downloadable content releases for big games, it's worth remembering: You can't always play what you download, not right away, not without some work or play.
The fine print of Mass Effect: Pinnacle Station, the $5 expansion to BioWare's 2007 science fiction role-playing game, does provide the proper warning: "Required: you must achieve Spectre status before embarking on this mission."
The inside of the PlayStation 3's Batman: Arkham Asylum box — the box I made such a big deal about yesterday — explains that its additional Joker content can only be experienced on levels unlocked in the campaign.