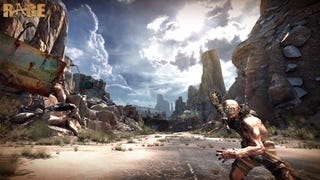 There will be 12s in Rage, I was told recently. This was mentioned by an id Software developer as I tried to gather facts about id Software's next game. 12s? Oh, yes. 12s.
I learned about this key Rage feature a couple of weeks ago in Texas, as I was wrapping up a chat with three of the principals behind the new game from the makers of Doom and Quake. I'd learned why the developers had combined driving with shooting and was teased about a twist to the game not evident in the Rage demos being held for the press. But that was not enough and I asked for more.
"You might want to say that there are a lot of 12s in it," Matt Hooper, the game's design lead told me.
Tim Willits, Rage's creative director laughed.
I'm sure I looked puzzled, so they relieved me of my confusion.
Hooper said he'd once been in a meeting with game industry executives. He was discussing a game and they wanted to know what the 12 moments in the game were. They didn't mean "12" as a number of moments, but "12" as the level of quality of the game's moments. Any moments that could be merely rated a quality of 10/10 weren't enough. Even Spinal Tap level-11 moments would not suffice. No, the game would have to have moments that could be rated a 12.
So, yeah, Rage will have 12s.
(UPDATE: To those in the comments section for whom I did not write this story clearly enough, Hooper was joking. He does not take the "12" talk seriously.)
Rage also does has driving, shooting and sparing use of monster closets, plus a similarity to Fallout 3, the last big game made by the company that just bought id.
The most striking novelty of Rage is the meshing of trademark id first-person shooting with driving gameplay, all set in a wasteland future of Earth. But while the combination is the critical element of the Rage's gameplay design, Willits said its presence was part of an evolving creative process, not a master plan.
Willits recalled that the Rage development team, which is only about 40 people strong, small by the standards of today's major game development efforts, began by considering the graphical possibilities of the company's new id Tech 5. They recognized they could create beautiful and extensive landscape. And they had a problem.
"We're like, 'We don't want to spend all this time making this really cool environment and having people auto-travel or just magically jump to the next level that they would play in,'" Willits said. They wanted gamers to see the sights — and like it. "We wanted the journey to be as much fun as the [action] when you get there. That led to: 'OK, well we need cars. We're going to want to have badass cars with guns.' That led to this kind of muscle car feel with the kind of buggy formats as well. And then, once we had that, that was a natural jump to the racing. And if you win races, you have to reward the player. If you reward them they can buy cool stuff for these cars." (Read about how all that is coming together in my Rage demo impressions from QuakeCon.)