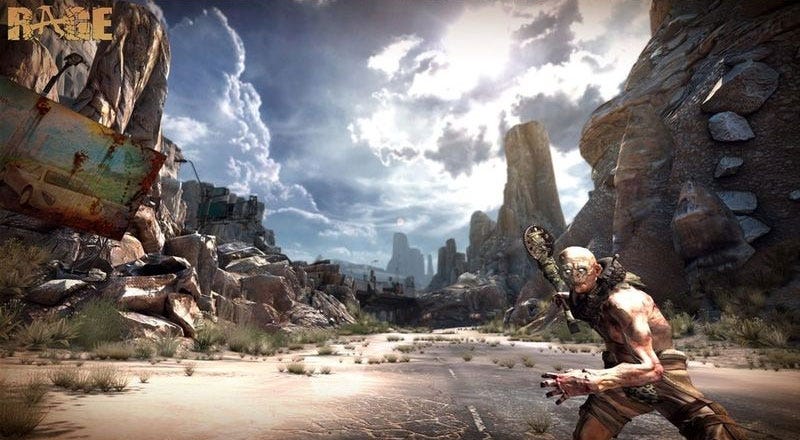 They told me their game demo would go at least an hour. Rage, three of id's top men told me, is a big game.
Developers usually ask for thirty minutes but here in the second biggest state of the Union, in the 400,000 square foot QuakeCon 2009 hotel, the Gaylord Texan, the development studio behind one of the biggest games of all time wanted to show me their new project.
But for all the talk of scale — for all the mathematics that have dominated the talk about id's next game, Rage, and its amazing technological capabilities — the game demo I got from id was surprisingly focused on nuance, art and color.
Rage is shooting and driving, gun rage and road rage. It's been designed to be swift to its action, to not waste gamers' time, to never let players be lost, and to be gorgeous.
Id's Matt Hooper and Tim Willits took turns controlling a demo that they presented for me in several parts, in a small meeting room at the Gaylord a day before this big shooter-centric convention began. They used an Xbox 360 controller to steer a PC build.
First they ventured into the game's wasteland. Ambling through the dusty, Arizona-style desert, Willits took control of the game's hero — a man never named, in the id tradition of letting the player feel that they are the hero. The game's graphical beauty is arresting, as can be seen in the QuakeCon '09 Rage trailer. The developers talked constantly throughout my demo about creating a game that looks great. Hooper described aspects of the landscape being created to please the eye, of the physical pacing of the character through the world designed to expose the players to grand and lovely sites. "The goal for Wellspring was to make it as gorgeous as possible," art director Stephan Martiniere told me. Good aesthetics are a priority.