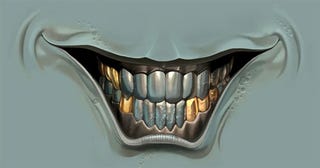 It's official. No more gold teeth will be added to that gruesome smile, as GRIN, the Swedish developer responsible for games like Bionic Commando, Wanted: Weapons of Fate and more is closing its doors due to "an unbearable cashflow situation."
In a letter from GRIN founders Bo and Ulf Andersson, the CEO and director, respectively, write that "too many publishers have been delaying their payments" to the developer, ending the 12-year-old company officially. The Anderssons lament their "unreleased masterpiece that we weren't allowed to finish," going on to thank their partners and the publishers who apparently did pay them.
Rumors of GRIN's demise began popping up earlier this week, with studios Barcelona and Gothenburg shutting down and the imminent closure of the company's Stockholm HQ. That followed reports of cutbacks earlier in the year, not long after the developer's Bionic Commando and Terminator games failed to inspire sales.