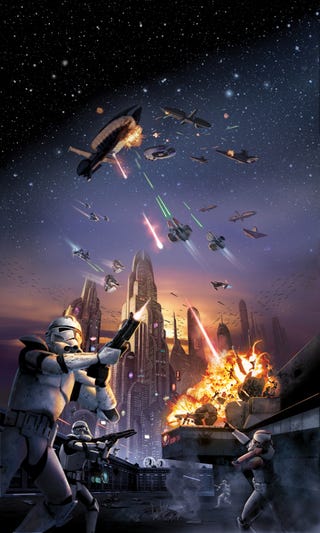 All I wanted to do when I played the newest Star Wars game on the PSP was fire the ion cannon. I became immature about it, even.
Imagine a normally respectable Kotaku reporter badgering a LucasArts PR man: "But I want to fire the ion cannon!" Worse, imagine that turning into: "I'm going to go play a game over there [PixelJunk Shooter,] but can you get to the part where I can shoot the ion cannon and let me know? I'll come back over."
Happily, the nice LucasArts man at the Sony showcase event I attended late last month in New York did as I asked and let me fire the ion cannon from the surface of the ice planet Hoth, as rendered on a PlayStation Portable. Thus, Star Destroyers were made to explode.
That's the hook: Ground-to-space battles on the go.
What Is It?
Star Wars Battlefront: Elite Squadron is a PSP and DS game coming this fall from LucasArts, developed by Rebellion and n-Space, respectively. True to the series, it is designed for multiple players to adopt the roles of Star Wars heroes and bit-players, grab any franchise vehicle they can find on the battlefield (think Battlefield) and wage war. Levels tend to be shaped for arena combat and the game design, as ever, is geared for a multiplayer experience, though one of the talking points for Elite Squadron is that a satisfying single-player campaign will be included.
What We Saw
I played the Hoth level of the PSP edition of the game during a Sony event held in New York City in late July. What I experienced didn't lead me with different conclusions than what Crecente wrote about in June, so for the basics, do check out his earlier preview.