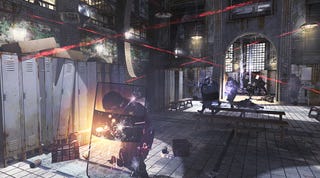 Infinity Ward brought Modern Warfare 2 to New York City last night and educated us a bit about the game's lengthy co-op, ever-changing name, suspiciously inexpensive night vision goggles and more.
The developers of Activision's first-person-shooter fall juggernaut showed their game on the 43rd floor of a midtown Manhattan hotel, with drinks offered, a big screen to play the game, and thunderous surround sound. They played. We watched. We inquired. They answered... mostly.
The naming question came up, first asked by Russ Frushtick of MTV Multiplayer and then later clarified by me. What's with "Call of Duty" returning to the title? Infinity Ward community manager Robert Bowling confirmed to the room that the name is on the standard box of the game (as we've seen) but not on the packaging of the two premium editions. The "Call of Duty" name doesn't appear in the game yet either, Bowling told me, not in the E3 build we were shown and not in the builds that Infinity Ward is working on now. "We still call the game Modern Warfare 2," Bowling told the room. "For our community we're making it clear that it's the sequel to Modern Warfare."