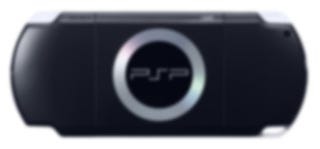 Details of Sony's oft-rumored revision to its PlayStation Portable may have been leaked a little earlier than the company was expecting, as chatter of the PSP Go! appears to have leaked a few days early.
According to the initially uploaded most recent episode of the "at1UP" podcast, Sony will soon be announcing the PSP Go!, with some of the web site's staff having already seen the device. The podcast describes the new hardware iteration as having "slide out" or "flip out" controls—presumably in the style of —as well as a larger screen.
The biggest point of contention among 1UP staffers appeared to be the name of the new hardware, lightly derided as "PSP Go exclamation point."
That episode has since been edited to remove mention of the PSP Go!.
If true, the description of the new hardware appears to jibe with previous rumored mentions of the "PSP-4000" which is allegedly planning to drop the system's UMD drive in favor of internal storage. With more and more PSP games going digital download only—and additional loose talk of in-store kiosks that would allow gamers to rip UMD games to a storage device—that particular rumor is starting to look more feasible.