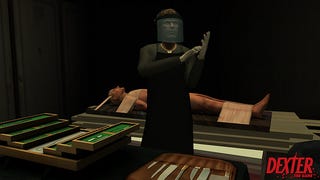 Dexter is a Showtime series about a forensics expert that secretly murders guilty suspects and collects samples of their blood. This is the game of that show made by a clothing designer.
Yes, Marc Ecko – that Marc Ecko – has expanded his efforts from rhinoceros-branded jackets and hats into iPhone games. Dexter for the iPhone isn't exactly his game label's first effort at it, but it may be the only one you've ever heard of. Ecko hopes to "scale up" Dexter to the Wii and later Xbox 360/PlayStation 3, which will be the first instance of reverse game development that I've ever seen if it happens.
What Is It?
Dexter for the iPhone is an adventure game that can be played in the first or third person. You play as the title character, a guy who runs around "solving" crimes as part of the police department and then takes justice into his own hands by offing the suspected criminal and storing a sample of their blood in his air conditioning unit.
What We Saw
In the midst of GDC chaos, I found myself in the awkward position of having to run eight blocks through downtown San Francisco with about 11 pounds of journalistic equipment on my back to make it to the 30th story of a posh hotel to spend exactly 20 minutes with the title before running another two blocks to go sit through this.