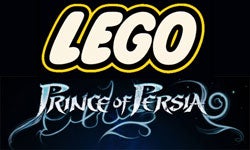 LEGO and video games are nothing new. We have have LEGO Star Wars. LEGO Indiana Jones. Even LEGO Batman. But Prince of Persia LEGO is something new, and altogether a little different.
During the New York Toy Fair over the weekend, it was announced that, continuing with their recent fascination with recreating famous movie scenes/characters, LEGO would be releasing a line of LEGO figures and playsets for the upcoming Prince of Persia movie.
Sure, the toys will be based on the movie, and not the game, but it's a movie based on a game. So, in a roundabout way, we'll have the first LEGO toys to be made from a video game series, and not the other way around.
The toys won't be out until April 2010 (the film isn't due until 2010 either). And, being a LEGO series based on a movie based on a video game, it'd be a brave man to bet against a video game adaptation turning up around the same time, despite any potential licensing issues that may stand in the way.
While young girls will no doubt swoon over the idea of getting their hands on a small, even cuter representation of Jake Gyllenhaal, we're just happy Ben Kingsley is finally getting his LEGO dues (what with LEGO execs still unwilling to take the plunge with LEGO Gandhi).