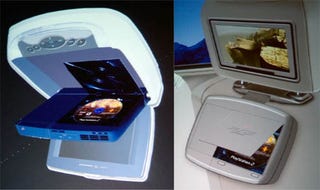 Yo, dawg, Audiovox heard you like the PlayStation 2 and car ownership. So it co-branded with Sony on a PlayStation 2 for your car so you can play games while you drive.
Announced at today's Audiovox press conference at CES, the new entertainment system featuring an integrated PlayStation 2 and 16-channel wireless FM modulator is the first of its kind. Or so the press release says.
The premier model features a 16:9 aspect ratio, widescreen 10.2" display in an overhead drop down configuration, one that comes bundled with a wireless DVD remote, two wireless infrared headphones and two wireless PS2 controllers. A second dome-style version, sans screen, will also be offered.
A third model, designed for mobile video systems already integrated into car seat headrests, will also be available. And no, your eyes don't deceive you. That is a copy of ICO being played on the back of headrest. Someone at the Audiovox art department has taste!
Gaze at a bigger photo of the thing at Gizmodo or read on for the press release.