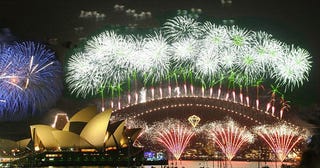 It's the New Year, and that means it's time for resolutions. You know, drop some weight, quit smoking, get organized - just like you resolve to do every year, right?
It's also a good time to reflect, maybe mull over some things you learned during the year and how you can apply those lessons in the coming one.
How about the year for games? Just as predicted, 2008 was a high-volume year, and although a recent rash of layoffs and economic struggles for the games biz proved that we're not "recession-proof," video games as an industry and as an entertainment medium still made big strides forward.
And what have we learned? New Year's resolutions tend to last until about mid-January, but looking back on the year in games, why don't we take a look at some resolutions we'd like to see ourselves - and the industry - actually keep?
New Year's Resolutions For The Game Industry
No More Holiday Avalanches: Once the holiday season came around, there were so many great titles to choose from that we had no idea what to buy. That's part of why it's been so hard to have a decisive opinion on the year-end lineup of titles - even reviewers and critics couldn't thoroughly keep pace with the barrage, and it was harder than ever to be the kind of core gamer who plays every title. There were just too many of them coming out at once.
Why on earth would the industry's publishers sync their calendars to launch their most competitive titles all at once? Well, the marketing wisdom goes something like this: Roll out a great game in a period of little competition, and consumers ask themselves whether or not they should buy it. Roll out a great game in a crowded, competitive season and consumers are more likely to ask themselves which title they should buy.
That's how movies do it, which is why you tend to see your Summer action flicks, your Spring romantic comedies, your Fall kids movies or your Holiday dramas come out in packs. The thinking is that more crowded release schedules draw consumers' attention to the space, and actually seem to increase the chance that someone will spend money on something.
But this season's rapidly-encroaching economic constraints meant that only the "sure things" earned money - players knew what to expect from Gears 2 or CoD5, so that's what they bought. Filling out the rest of the November NPD charts were the same mainstay Nintendo titles for Wii that more casual players have bought regularly throughout the year. While slightly more divergent, critically-acclaimed titles like Left 4 Dead, Fable II and Fallout 3 still made the top 20, they likely could have sold even better in a period where they were allowed to be the main event. And forget the titles that were any smaller than that — literally, do you even remember them?
Publishers plan release schedules months, often years in advance, and no one could have predicted that the recession could hit so quick and so hard. But this year, we hope they'll have a little more faith in their own titles, and in the audience's appetite for innovation, and resolve to release at least a few of their gems when they can stand on their own, when audiences can pay proper attention to them, and when consumer wallets aren't already bled to death.
Less Is More: Even before the economic downturn set in, the industry was beginning to feel a serious squeeze from just how large development have gotten today. As the industry's grown in value, it's also become much more competitive, and major companies feel the need to sink millions into long, long dev cycles just to keep up. And profitability's hard - analyst group EEDAR recently suggested that only 20 percent of games are profitable. Yes, that means that as much as 80 percent of games lose money.