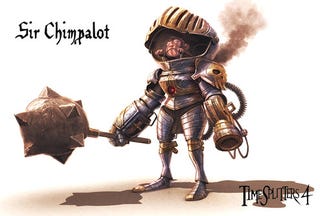 A few months before Free Radical Design cratered, founder Steve Ellis set up a new studio and parked the domain for "Pumpkin Beach." Well, he and 20 former FRD coders now have jobs there.
Smashpad had a source inside the now-closed studio, noted for its TimeSplitters and Haze IPs, who said Pumpkin Beach was set up about four months ago in-house. "We were told that because the project was going to be quite different from Free Radical's previous games," said Smashpad's source, "they were setting up a new company, sort of a new label for the game, to avoid the associations with TimeSplitters and Haze."
Avoiding associations with the universally-panned Haze? Sound strategy. The source semi-disputed rumors that Lucasarts was most displeased and took away Battlefront III, giving it to Rebellion. But he or she didn't elaborate on them being "not entirely true."