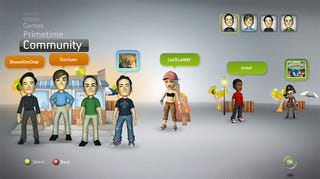 A poster on the VGChartz forums (yes, I know) has posted alleged details of a rumored Xbox 360 "relaunch," the specifics of which even the author writes are "batshit crazy." However, the supposed Fall marketing push is specific enough to the point where it could be grounded in reality — and makes some amount of sense in light of new price drops, the arrival of the "New Xbox Experience" and impending holiday purchases. According to the forum posting, on September 25th, Microsoft will take over basic cable channel G4 with a five-hour infomercial, culminating in the launch of the
New Xbox Experience
at midnight. The arrival of the new look and feel for the Xbox 360's dashboard will also bring with it three totally new services, six free games and
twelve
new exclusives.Similar to the launch of
Netflix streaming via Xbox Live
, also rumored to launch is a collaboration with Sirius Satellite Radio which will allow subscribers to stream stations through their Xbox 360s. This streaming service is also said to be accessible in-game, as a custom soundtrack. Just as wild is the rumored announcement of a music download service, one that lets you pay with Microsoft Points. Finally, a service known as "Mad Lib" is said by the poster to arrive alongside the New Xbox Experience. The source speculates "it has something to do with a picture within picture function." On the games front, the Xbox 360 "relaunch" is said to come with a dozen game announcements, including a new
Assassin's Creed
title, more
Halo
games, plus details on expansions for
Mass Effect
,
Grand Theft Auto IV
and
Halo 3
. The dirty dozen are said to be codenamed Apricot, Burden, Conker, Dramatis, Error, Fender, Gargoyle, Hiroshima, Ignorance, Jeremiah, Kyoto, and London, if you feel like wildly speculating. Even better? Six Xbox Originals are rumored to join the line-up — for free. How plausible does this all sound? It certainly looks like a heaping pile of stinking fanboy fantasy, but we
suppose
it could happen. It's allegedly planned just prior to the Tokyo Game Show, a move that could help Microsoft's chances and reinvigorate slow console sales. We're contacting Microsoft to see what they have to say about the whole thing, but consider this one a rumor with a capital R for now.
September 25th rumor.
[VGChartz Forums - thanks, Blake!]