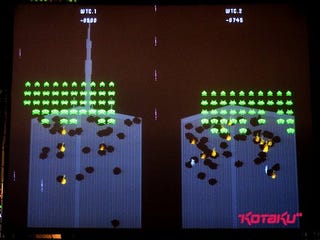 Leipzig lizards, Daddy Warbucks! A 9/11 skin on
Space Invaders
got MSM attention for Games Convention '08 alright, perhaps not in the way anyone other than the exhibit's creator had hoped. Kotaku's Michael McWhertor spotted it on Wednesday, snapped a pic and then later
hands on with the exhibit
. But his snapshot went global nookular instantly. After the New York Daily News ran it, with predictably insulted react from 9/11 survivors, Taito got on the ball and postured about legal action, although since it can be argued it's an interactive art exhibit, fair use defenses may protect the creator. Either way, it was a sweeping curveball among all the heavily anticipated news that pours out of this kind of get together. Mike and Fahey (and Mike Fahey) led the attack and they're still up against it today and tomorrow. Show them some love in the comments and keep your eyes peeled for more GC '08 goodness. And wake up sheeple, 9/11 was an outer space job. Some highlights below. Full list on the jump. Also, special announcement. If you game on Madden 09 and want to participate in the Kotaku Football Conference online league, keep your eyes peeled for tomorrow (Sunday) at 1 pm Crecente time (3 pm US Eastern, noon Pacific). I will be posting the league announcement with the password to join. There are 31 slots, I'm in and I already have the Chargers. The rest of the bids and the teams will be first come, first serve, so if this matters to you, tune in then.
Space Invaders Attack World Trade Center At Games Convention]
Killzone 2 Adds Multiplayer Bot Action
Troubled Tecmo President Resigns!
Japan Is TOTALLY Sold Out of Xbox 360s (New Shipment Next Month!)
Bionic Commando Rearmed Review: Swing Low, Sweet Re-Release
Team Fortress 2 Updates Coming To Xbox 360 Later This Year
Madden '09 Review: It's Still a W in the Standings
Pwn the Vote: Register to Vote on Your Xbox 360
Brian Bright On Guitar Hero: World Tour - We're Bringing It
Runes Of Magic - More Than A WoW Clone
MadWorld Isn't Just About Throwing People Into Walls Of Spikes, Y'know
It's Not Games Convention Until The Stripper-Mobile Arrives
Heavy Rain: You're Soaking In it
Too Human Review: Dyack's Human Too
Dead Rising Wii - How Gimped It Is
Taito Considering Legal Action Againt 9/11 Invader Artist
Hands-On: Losing The Twin Towers With Invaders!
Far Cry 2 Map Editor Makes Map Editing Easier
inFamous - Sucker Punch's Electrical Outlet
H.A.W.X. Aces Air Combat
Sony Announces New PSP Wi-Fi Tie-Up
Family of 9/11 Victims Tear into Space Invaders Exhibit
Bayonetta Impressions: What Deadly Hair You Have!
Only The Barbarian Will Return In Diablo III
Radio Shack Confirms 360 Price Cuts?
Wanna Play SOCOM At Games Convention? On Your Knees, Boy!
Inside Out: The Pokemon Conundrum
The House of the Dead Overkill Impressions Of Delicious Gore
Beer Goes Well With Guitar Hero: World Tour
Hands On With Street Fighter IV 360
MK vs. DC: Hands On With The Joker
Web Of Shadows Hands On - Spider-Man Reborn
Aion Booth Babe Feeling Blue
Dark Void - Have Jetpack, Will Travel
Lunchtime At Games Convention 2008
Naruto: Ultmate Ninja Storm Getting Day One DLC
The Activision Presser, With Special Guest German Guy
Sega Sexes Up Samba De Amigo For Games Convention
Konami's GC 2008 Presser - Here's What Happened
GDC Boss Jamil Moledina Resigns
Age Of Conan Does Booth Babes Right
Pure - But Slightly Censored - Bliss
PS3 World Tour Rock Band Compatible
Konami Sheds Light On Lords Of Shadow
RB2: Drum Trainer, Battle of the Bands detailed
PlayStation 3 160GB Model Coming To Europe
Gary Oldman Answers Call of Duty
Wonder Woman, Raiden Two Of Four New Kombatants
EA Sports Adds Tennis To '09 Line Up, Snags Wimbledon Rights
Frankenreview: Too Human
Germany - Ich Leibe Es!
iPhone Frogger Impressions
SOCOM Confrontation Closed Beta Pics
Nerf N-Strike – We Need More Games Like This
Sim-splosion – EA Showcase 08
Henry Hattsworth and the Puzzling Adventure – Sit On It, Layton
Games Convention 2008 - The Adventure Begins
A Gallery of Madden Glitch Goodness