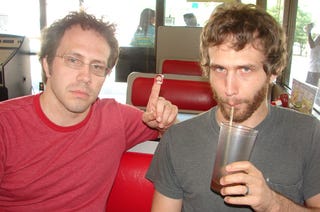 Way back in 1996, two University of Georgia students, Mike Chapman and Craig Zobel, created The Homestar Runner Enters The Strongest Man In The World Contest as a parody of the chidlren's books of that bygone era. Shortly after this the characters introduced in that book - Homestar Runner, Strong Bad, Strong Sad, and Pom Pom - would make their console debut as a cartoon created in the Super Nintendo game Mario Paint. In 1999 Mike Chapman and his younger brother Matt launched Homestarrunner.net ("It's Dot.Com!"), creating what could possibly be the most family-friendly flash humor website available on the internets.
Now some 12 years after the characters' initial video game debut, Strong Bad and friends are set to make their triumpant return to a Nintendo console with Strong Bad's Cool Game For Attractive People, collaborating with Sam and Max developers Telltale Games on the episodic adventure title. I recently met with The Brothers Chap at a gourment Atlanta restaurant to discuss the upcoming game, the perils of voice-acting every character on your website, and of course, the finest cuisine available in the United States.


Scattered, Smothered, Covered, And Gobbled
Okay, so we met at a Waffle House, but for three guys who grew up in Dunwoody Georgia, the memories afforded by the greasy diner-style restaurant far outweigh the gastro-intestinal distress we were sure to encounter later that evening. As it turns out, Mike, Matt and I all lived in the same area growing up, and while I never ran in the same circles as they did, my younger sister Nadine was in several of Matt's classes in Peachtree Middle School while Mike and I were attending Dunwoody High School. Apparently there's even a picture of Matt in my mother's house somewhere, though trying to find one specific picture in my mother's house is akin to trying to find a specific grain of sand in the desert.
This particular Waffle House was down the street from Peachtree Middle, and in an affluent Atlanta suburb where parents made damn sure that there wasn't much for their kids to do after midnight, it had long been a haven for area teens.
We order nothing healthy, and Mike inquires as to having his hashbrowns gobbled - topped with turkey - which leads to the waitress attempting to have the cook add this new type of hashbrown decoration to the menu. The cook is confused, the waitress bemused, and the whole thing comes to a head when we're told they've no turkey anyway, but we nearly made Waffle House history right there.
The Videlectrix Connection
It is important to note that while Strong Bad's Cool Game For Attractive People (SBCG4AP) is the first console game based on The Brothers' creations, cutting-edge gaming company Videlectrix has been making games for the series for what seems like decades, with blockbuster titles such as Secret Collect, Pigs on Head, and of course, Trogdor.
The brothers explain that Videlectrix is very much involved in SBCG4AP, to the point where Mike even created a high-res logo for them (they didn't have one of their own) in case Telltale wanted to use it at the beginning of the game. The original press release for the title even lists Videlectrix as Telltale's partner for the game, a fact that confused some of Telltale's investors.