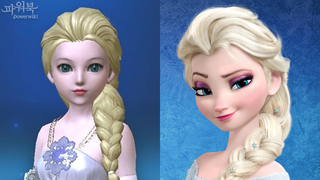 Popular South Korean MMO Aion just got an update. Included in this recent patch was a new golden blond braided hairdo. Gosh, this looks like Elsa from Frozen.
As pointed out by tipster Sang, the patch, which is called "Purple Light Revolution Update," was released today.
Above, you can see how the hairstyle compares to the real Elsa. Below, you can see images from the update.
What makes this worth noting is the timing. Frozen just won an Oscar. It's been a box office smash for Disney, and it's super popular in South Korea. This explains why this Aion patch lets players create totally unofficial Frozen-esque heroines.
Aion is known for its customization. But me? I want to build a snowman, not an Elsa.
The resemblance hasn't escaped Aion players, some of which have been trying to recreate Frozen in game after the patch update. These aren't exact matches, so don't expect that!
Did Elsa have giant black wings in Frozen? I honestly don't remember.
Now, this I definitely don't remember.
2014년 3월 5일 업데이트 [Aion Thanks, Sang!]
신규 헤어 - 보랏빛 혁명 업데이트 [Aion]
이미지를 클릭하시면 크게 보실 수 있습니다. [Aion]
To contact the author of this post, write to bashcraftATkotaku.com or find him on Twitter @Brian_Ashcraft.
Kotaku East is your slice of Asian internet culture, bringing you the latest talking points from Japan, Korea, China and beyond. Tune in every morning from 4am to 8am.