It was recently revealed that Yaiba: Ninja Gaiden Z will be out March 6 next year in Japan.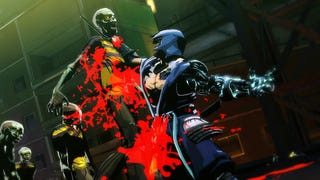 Ninja Gaiden's cyborg vs. zombies spin-off is coming to PC. Tecmo Koei announced this morning that the Steam version of Yaiba: Ninja Gaiden Z will be launching day-and-date with the PlayStation 3 and Xbox 360 versions in early 2014. Thank goodness. Ninja Gaiden and PCs go together like ... you know.
Earlier this month, a mysterious game called Yaiba was announced by Keiji Inafune. The game is not just an Inafune title. It's a Ninja Gaiden title.
Here's a quick first look at Yaiba, the stylish new zombie game by Keiji Inafune, designer of Mega Man and Dead Rising.