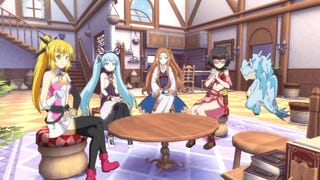 What roleplaying games have that separates them from other types of games is their focus on story more than gameplay. And with this deep exploration of the story comes a game far longer than other genres. While you will spend an average of ten hours on most single-player titles, RPGs can easily last triple that time,…
Tokitowa is an ambitious game. It mixes sprite-based anime graphics with a 3D world, has dating sim elements, and debuts a unique battle system—all in the same package. Moreover, all these elements are tied together with a complex, time travel narrative. But is Tokitowa able to pull all these different elements into a…
During my sixth grade year, two things happened that would change the direction of my life forever: I saw my first anime (Lodoss War) and I played my first RPG (Final Fantasy VI). Both were gateways to expansive realms filled with amazing stories. And in my adolescent mind, a dream coalesced, "What if you combined…
Tokitowa is a new JRPG filled with time travel, multiple personality disorder, talking dragons, ghost towns, assassins, comedy, and cake—lots and lots of cake. Its creators have called it an "Anime RPG" as it uses 2D sprites for all the characters and enemies which are then superimposed on a 3D world.
Over the past few months I've been anxiously awaiting the new PS3 title Tokitowa. While some are looking forward to the love story aspect or to its attempt to make a playable anime, the core of my anticipation is something altogether different: I've been dying to play another Japanese time travel story.
Revealed today, the unannounced role-playing game Namco Bandai teased in Famitsu is Tokitowa.