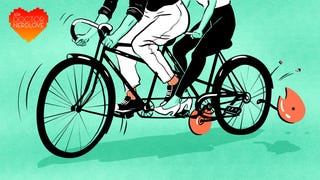 Hello, Internet! Welcome to Ask Dr. NerdLove, the fastest dating advice column alive.
A whole bunch of vintage technology shows up in SuperMonkey's video to make the 80s version of the popular dating app work on a home computer.
Man, video game characters are so lucky. They might have to square off against giant monsters and evil robots, but how would they fare in the virtual battleground that is online dating? I guess the Dragon Age characters would do pretty well for themselves. Everyone else, though...
As Bart Simpson has shown, trolling people looking for love is usually a dick move. The trick, then, is to keep it short, keep it simple, and make it funny.