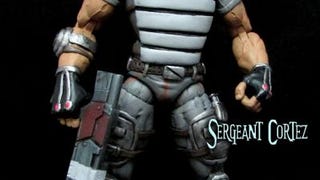 Steve Ellis is responsible for the beloved multiplayer aspect of Rare's classic Nintendo 64 shooter Goldeneye 007, and was a founder of Free Radical Design, the studio behind the TimeSplitters franchise. Martin Wakeley was a designer and producer at Rare, creating beloved titles like Blast Corps and Jet Force Gemini…
There's been teaser art for years. And even as recently as 2010, word that its creators were talking with publishers about releasing it. But in sad news for TimeSplitters fans, it seems the 4th game in the series is going absolutely nowhere.
Having recently shed 140 employees worth of weight, the slimmer, more manageable Free Radical is drawing a great deal of interest from various parties, with sale news expected later this month.
If Haze didn't float your boat, and it didn't float many, Free Radical's right back atcha with TimeSplitters 4. Of course the game has been officially officially known for some time, but FR put up three concept art scans on the official website earlier this week. The chainsaw nun above is one. You can also get a look…
What platform(s) do you want to play TimeSplitters 4 on? The Free Radical developed shooter that will hopefully make us forget all about Haze is slated to officially come to "next-gen platforms," but Free Radical is looking for feedback on the matter. Should it also come to the Wii? PC? Should they scrap it all and…