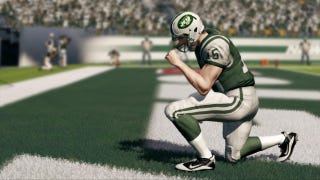 On Friday, Mike Young, the creative director for Madden NFL 13 revealed that the game would feature the notorious "Tebowing" posture, whose namesake drops to one knee in a solemn and evidently religious celebration. Operation Sports today published the first screenshot of what that would look like. In fact, they said…
As a hopeless Jets fan and Tebow-fearing human, I was not too pleased at this afternoon's news that the Denver Broncos have traded divine quarterback Timothy Richard Tebow to the New York Jets. Current starter Mark Sanchez has enough of a media circus on his hands already.
Tim Tebow getting the cover of NCAA Football 11 was part rumor, part poorly kept secret, and all but assured. EA Sports has confirmed for Kotaku that Tebow will be on the cover of all versions of the game.