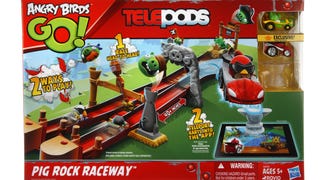 Our first official look at Angry Birds Go! comes not from a trailer or in-game screenshots, but from Hasbro's upcoming line of Telepods and Jenga toys based on the kart-based spin-off. Strange.
Announced last week, Angry Birds Star Wars II gives fans the ability to swap out the bird (or pig) line-up in their iPad or Android game using physical toys, but Hasbro's Telepods technology isn't Skylanders. It's much simpler than that.
As expected, last week's Rovio tease has coalesced into the prequel-chronicling Angry Birds Star Wars II, complete with a damn Jar Jar bird. Significantly less expected is the integration of Hasbro's Telepods technology, beaming in powerful characters via physical toys, Skylanders style.