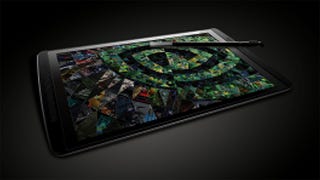 Nvidia's portable gaming system is neat, but there are several things it does — playing media, running games in portrait mode — that could be handled better by a similarly-powered tablet. The Tegra Note plaform is that tablet.
Following a last-minute delay that pushed the launch from June to July, today Nvidia confirmed with Kotaku that the Shield handheld is officially launching on July 31.
Remember last week, when Nvidia announced their Shield portable Android gaming system was launching tomorrow? Yeah, about that...
Announced in January as Project Shield, Nvidia's intriguing new handheld now has a price, a June release window, and the promise of Double Fine's Broken Age. Who's ready to spend $350 on a dedicated Android gaming device?
The best thing about Nvidia's TegraZone, where Android and Windows RT device owners can purchase and play the latest Tegra-fueled games, is that it's not very crowded. The Tegra 3 chip is lovely and does a wonderful job of powering amped mobile titles, but developers haven't exactly flocked to the platform. Perhaps…
When Adhesive Games' creative director and co-founder Khang Le took the stage during last night's Nvidia press conference to play the free-to-play mech combat game Hawken on Nvidia's Project Shield handheld, I was confused. This was not the PC game. What the hell was that? Turns out Nvidia ran out of time to mention…
So there I was, prepping a post on Nvidia's Tegra 4 processor, the successor to the Tegra 3 with six times the graphics processing power and all sorts of nifty advancements that really seem boring now compared to the Shield portable gaming device.