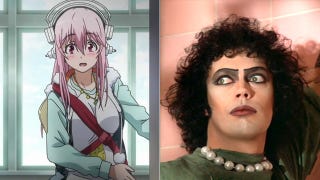 This morning as I sat on my exercise bike—peddling madly while watching the new anime Super Sonico—I was struck by the sudden realization that I had heard part of the anime's theme song somewhere before: in The Rocky Horror Picture Show.
This week, Soni Ani Super Sonico The Animation began broadcasting in Japan. The series features Super Sonico, the mascot character for Tokyo-based game developer Nitroplus. And one short, subtle sequence is raising eyebrows among some online in neighboring South Korea.
Banpresto's Super Robot Wars games are famous for having a mish-mash of characters from all kinds of different mecha games and anime. Not only are multiple different series placed in the same game together with an amalgamated storyline that can be surprisingly cohesive, but the characters will interact and share…
Remember that Queen's Blade statue? The jumbo one with silly proportions that an 88 year-old gentleman was thrilled to hold? Well, there's another huge statue slated for release. It also has silly proportions.
Hug pillows, or "dakimakura" as they're called in Japanese, are otaku bedroom staples. But what if you didn't hug the pillow, but the pillow hugged you?