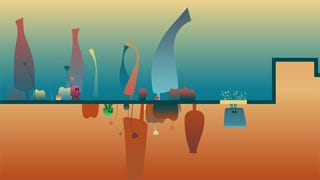 Four games in four weeks — Sony's dropped the release schedule and games coming in its summer 2013 PlayStation Network PLAY promotion: Stealth Inc.: A Clone In The Dark (July 26), Cloudberry Kingdom (July 30), the delightful ibb & obb (above, August 6) and DuckTales Remastered (August 13). Check out pricing and more…
On the E3 show floor, Kotaku's Jason Schreier managed to get a hands-on with the Vita version of Curve Studios' Stealth Bastard, re-dubbed Stealth Inc. for its console release. By the looks of it, the stealth-platformer hybrid made the jump to handhelds quite well. Stealth Inc. hits PS3 and the Vita this month.
There once was a PC game called Stealth Bastard. Well, there still is a PC game called Stealth Bastard. That game is now heading to the PSN, where Sony, sadly, have seen fit (following a competition) to have its name changed to the altogether duller/cornier Stealth Inc. – A Clone in the Dark!.